Master of Science in Computer Science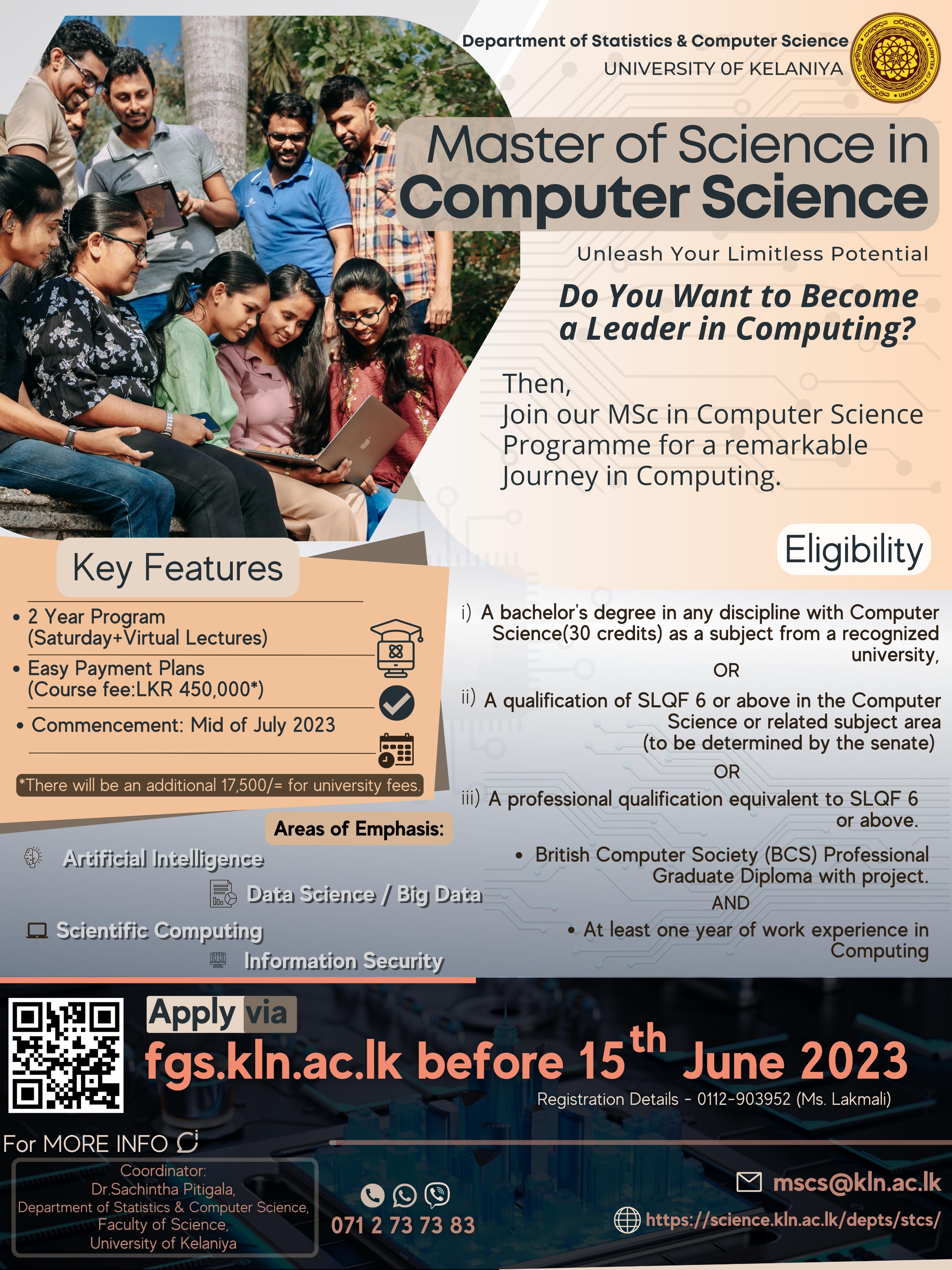 The primary goal of this M.Sc. programme is to equip graduates with the state-of-the-art computer science knowledge, enabling them to become future leaders in their fields. This M.Sc. in Computer Science course content is designed to provide an integrated set of skills that are necessary for both academia and industry. Moreover, the content is focused more on the skills that are not presently imparted to the students during their undergraduate studies. Students in this M.Sc. programme can emphasize their studies in one of four major areas: Computer Science, Data Science, Information Technology and Scientific Computing. Each emphasis above would provide students with a deep understanding of a range of critical topics covering the relevant area. Ultimately, this programme is intended to give students an appreciation of the current state and future directions of technological advances in Computer Science as well as give experience in both team work and individual work.
Eligibility Requirement
Any person with the following qualifications is eligible to apply for the course.
A bachelor degree in any discipline with computer science (30 credits) as a subject from a recognized university,
              Or

A qualification of SLQF 6 or above in the computer science or related subject area (to be determined by the senate)                                                                                                              Or

A professional qualification equivalent to SLQF 6 or above:

British Computer Society (BCS) Professional Graduate Diploma with Project.

              and

At least one year's work experience in the field of computing.
Curriculum

Level      


Semester   


Course Code

Course Title

Type

Credit  

5

1

COSC 51013

Advanced Algorithms

Compulsory

       03

5

1

COSC 51023

Advanced Database Systems

Compulsory

       03

5

1

COSC 51033

Advanced Operating Systems

Compulsory

       03

5

1

COSC 51043

Information Assurance and Security

Compulsory

       03

5

1

COSC 51052

Artificial Intelligence

Compulsory

       02

Total Number of Credits for the Semester I

Compulsory

       14

Total

       14

5

2

COSC 52063

Parallel and Distributed Computing

Compulsory

       03

5

2

COSC 52073

Theory of Computing

Compulsory

       03

5

2

COSC 52083

Enterprise Software Development

Compulsory

       03

5

2

COSC 52093

Advanced Computer Networks

Compulsory

       03

5

2

COSC 52102

Data Science

Compulsory

       02

5

2

COSC 52112

Research Methodologies

Compulsory

       02

Total Number of Credits for the Semester 2

Compulsory

       16

Total

       16

Total Number of Credits for the Level 05

Compulsory

       30

Total

       30

6

3/4

COSC 6312K

Research Project

Compulsory

       20

6

3/4

COSC 64133

Computer Architecture and Performance

Optional

       03

6

3/4

COSC 64143

Computer Graphics and Gaming

Optional

       03

6

3/4

COSC 64153

Computer Simulation and Modeling

Optional

       03

6

3/4

COSC 64163

Knowledge Engineering

Optional

       03

6

3/4

COSC 64173

Mobile Computing

Optional

       03

6

3/4

COSC 64182

Big Data Technologies

Optional

       02

6

3/4

COSC 64192

Cloud Computing

Optional

       02

6

3/4

COSC 64202

Deep Learning

Optional

       02

6

3/4

COSC 64212

Emerging Technologies in Computer Science

Optional

       02

6

3/4

COSC 64222

Embedded Systems

Optional

       02

6

3/4

COSC 64232

Human Computer Interaction

Optional

       02

6

3/4

COSC 64242

Image Processing and Computer Vision

Optional

       02

6

3/4

COSC 64252

Natural Language Processing

Optional

       02

6

3/4

COSC 64262

Project Management

Optional

       02

6

3/4

COSC 64272

Software Quality Assurance

Optional

       02

Total Number of Credits for the Level 06

Compulsory

       20

Optional1

       35

Total

       55