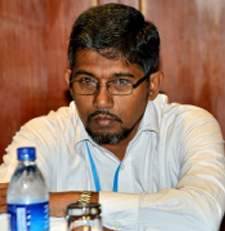 Professor M.M.M Najim
Professor
Department of Zoology and Environmental Management 
Faculty of Science
University of Kelaniya
Kelaniya 11600
Sri Lanka
Telephone: + 94 11 2914479, + 94 11 2903413, +94 777412089(Mobile)
Fax: + 94 11 2914479
Bachelor of Science in Agriculture (B.Sc. Agric. Hons.)  - December 1994, Faculty of Agriculture, University of Peradeniya, Peradeniya. Sri Lanka.

Master of Engineering in Irrigation Engineering and Management from the School of Civil Engineering (Water Engineering and Management Program), Asian Institute of Technology, Thailand.
Ph.D. in Water Resources Engineering from University Putra Malaysia (Dept. of Biological and Agricultural Engineering, Faculty of Engineering), Malaysia.
Selected Recent Research Publications
Publications - Conference Papers and abstracts
Administrative Experience
Positions held in Professional Societies
Fellowships, awards and distinctions
Memberships in editorial boards
Membership in Professional Societies