Senior Prof. S.R.D. Kalingamudali appointed as the Dean of the Faculty of Science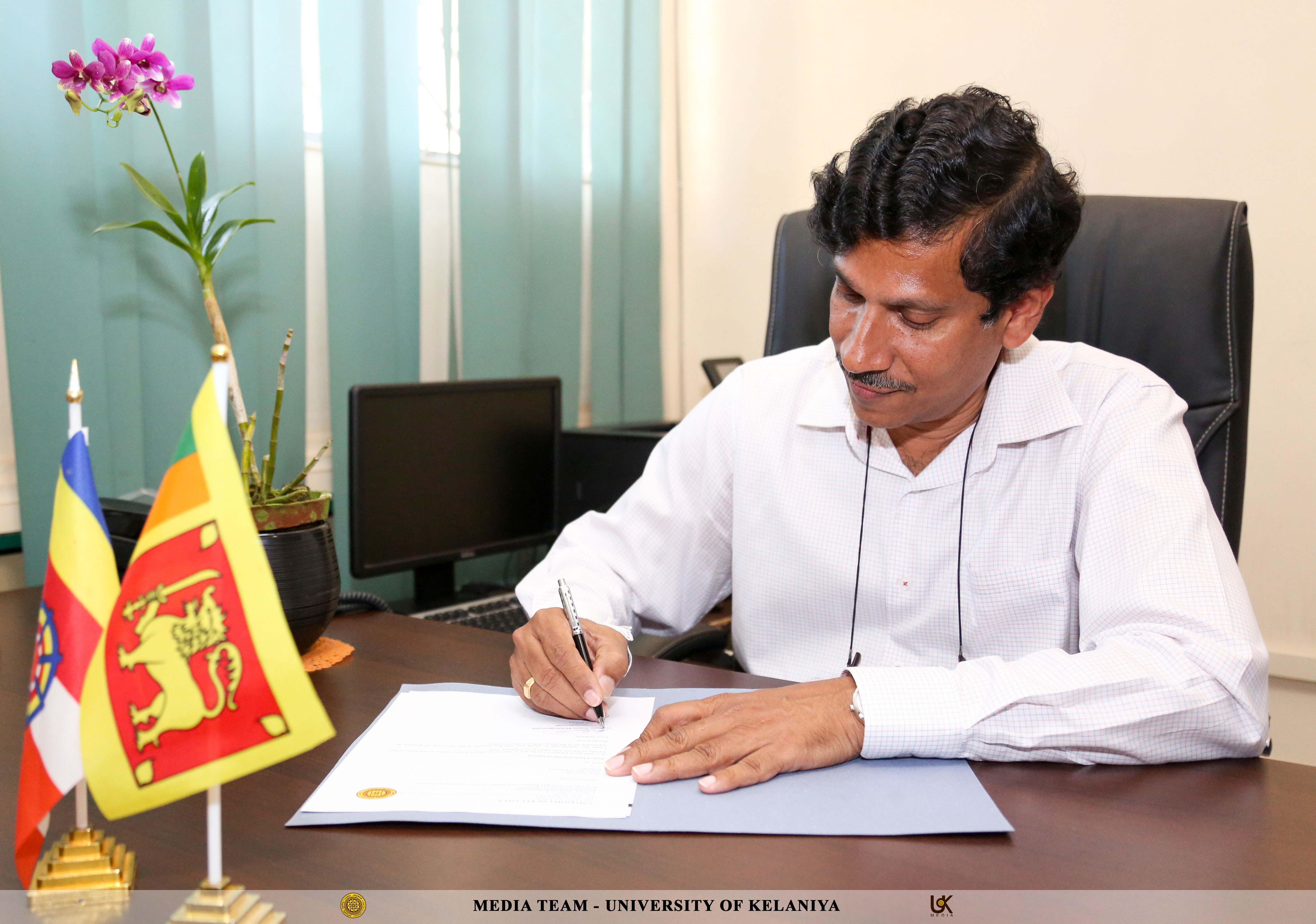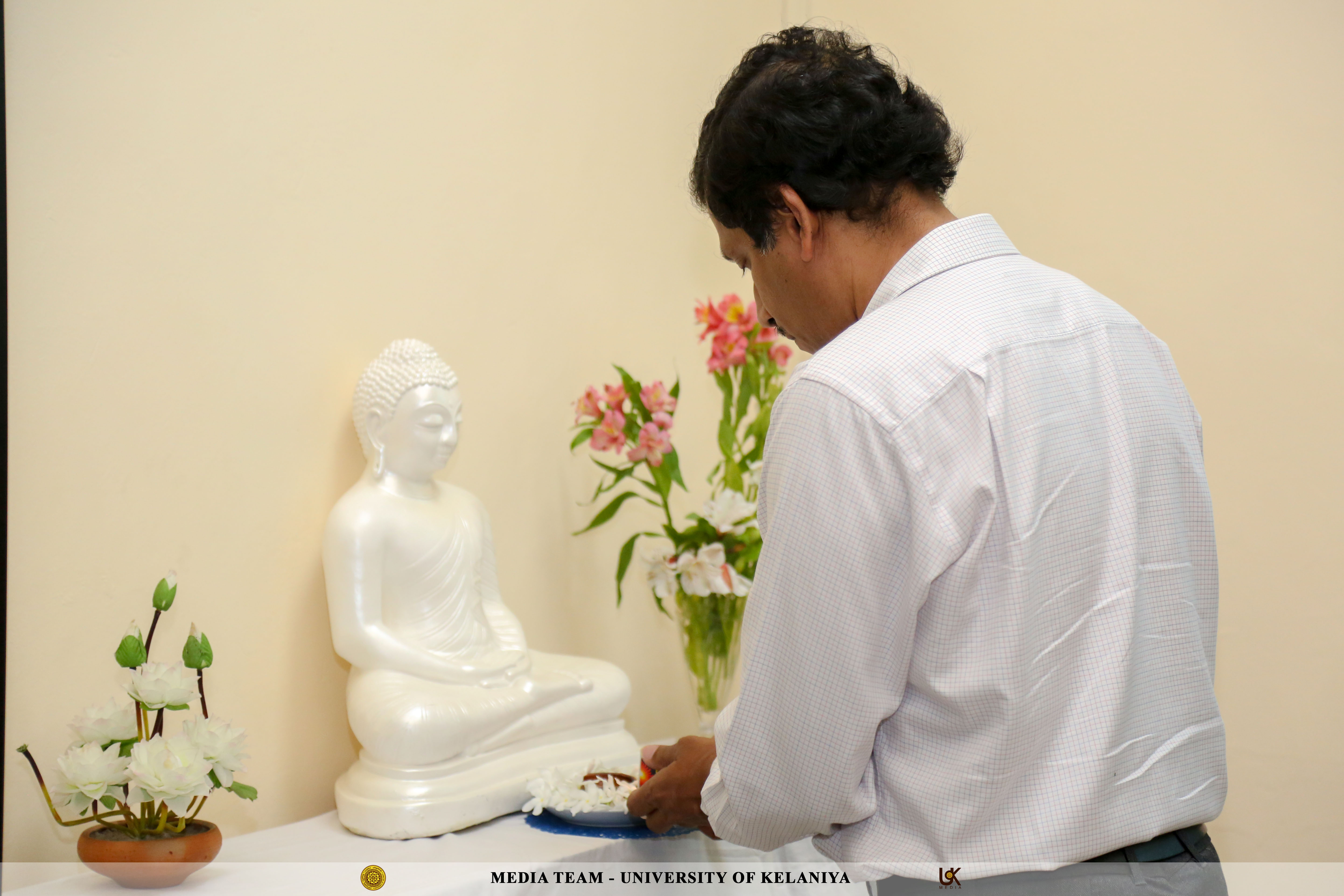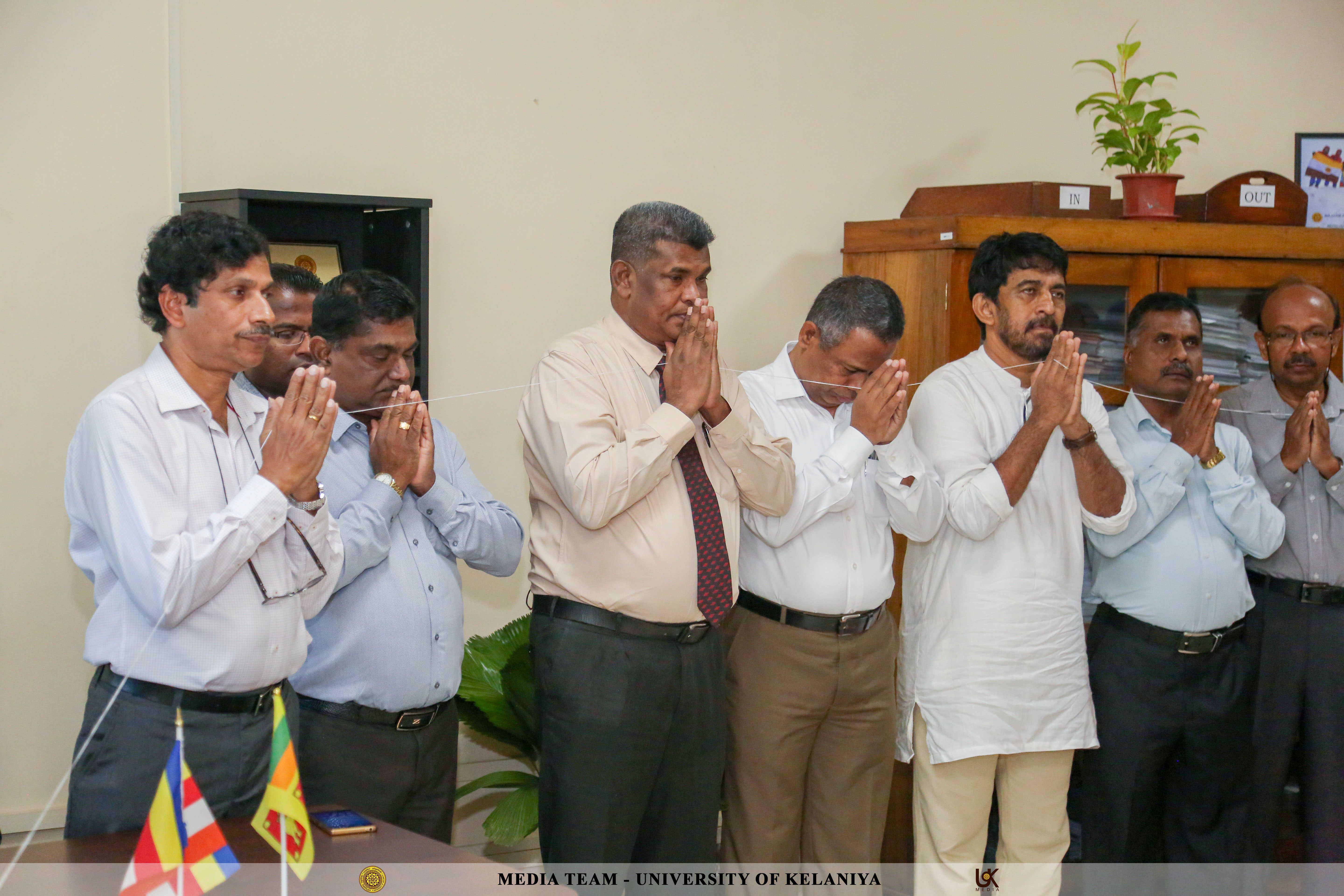 Senior Prof. S.R.D. Kalingamudali was appointed as the Dean of the Faculty of Science. The appointment letter was handed over to the Dean by the Vice- Chancellor, Prof. D.M. Semasinghe on the 02nd of January 2020 at the Senate Room.
Present at the occasion were Senior Prof. Lakshman Senevirathne, Deputy Vice- Chancellor, Heads & academic staff members of the Departments of the Faculty of Science, Mr. W.M. Karunaratne, Registrar and Ms. Dhammika Ambegoda, Assistant Registrar- Academic Establishment Division.
Professor Sudath Rajendra Deshapriya Kalingamudali assumed duties as the 15th Dean of the Faculty of Science on 03rd of January 2020 for a period of three years while the seth pirith was chanted by the Maha Sanga Venerable Dr Malwane Chandaratana Thero, Venerable Dr Dodamkumbure Dhammadassi Thero, and Venerable Dr Kapugollawe Anandakiththi Thero. Professor Kalingamudali is the 1st Physics alumnus of the Faculty to be its Dean.
This ceremony was graced by the Vice-Chancellor, Deputy Vice-Chancellor, Deans of Faculties, Registrar, Librarian, Bursar, Heads of Departments, Senior Professors, Professors, Senior Lecturers, Lectures and non-academic staff members of the University.
Professor Kalingamudali had his Primary and Secondary Education at the Wesley College, Colombo. He obtained his BSc (Special) degree in Physics with first class honours from the University of Kelaniya (UoK) in 1990, and earned his PhD from University of Sheffield in 1994 under an open Commonwealth Scholarship. He has won the Fulbright Fellowship twice, which is a rare achievement for an academic, and served as a Visiting Professor at two USA universities, namely the Georgia State University and Louisiana State University. He was a keen Hockey player at UoK and was awarded University Colours for Hockey in 1985 and 1986, and his team won the Second place at the 3rd University Games in 1986. Since 2015, he is a Senior Professor in Physics at UoK and was the 1st Physics alumnus who achieved this milestone.
He is a Chartered Scientist, a Chartered Engineer and a Chartered Physicist. He is a Fellow of two reputed international scientific institutions in UK, namely the Institution of Engineering & Technology (IET), and the Institute of Physics (IOP), which is also a rare achievement for a Sri Lankan Physicist. He is a Fellow of the Institute of Physics, Sri Lanka (IPSL) as well. 
He became the Head of Department in 2004 and served for over 6 years in 3 occasions, and was the Founder Director of the Research and Services Centre of the Faculty of Science for over 3 years. Presently, he is the Chairman/Sports Advisory Board since 2014 and the Project Director of the Solar Edu-Training programme of the Ministry of Science, Technology and Research since 2017. Also he has served as a Peer Reviewer (International and National) for subject and programme review processes.
He has held many positions in professional institutions. These include President and Vice President of IPSL, Secretary/International relations, Secretary/Section E1, and Secretary/Science and Technology Advisory Committee of SLAAS; and President/Alumni Association of Faculty of Science, UoK. He has also been a member of evaluation/selection panels for Professorial promotions as UGC/Senate nominee, Chartered Physicist evaluation panel of IOP, Presidential Task Force and Sri Lankan National Vocational Training Council. He has participated in more than 40 Workshops/Seminars as a Resource Person, organised more than 20 educational Workshops, conducted more than 35 general lectures on Electronics for secondary school teachers and students, and participated as the Chief Guest/Guest of Honour in more than 20 educational events including the Annual Prize Giving 2012 of his Alma Mater.
His main research interests are designing and developing of electronic circuits for various applications. He has published/presented over 40 research papers. He played an instrumental role in partnering with OREL Corporation (Pvt) Ltd to license an innovative product "Remotely Controllable Regulator Connected in Series with Resistive and Inductive Loads" which was invented by Mr Kelum Perera as his final year undergraduate project under the supervision of Prof. Kalingamudali. This was another first in the University of Kelaniya history.