Botany Society Activities 2019
Annual General Meeting 2019
Annual General Meeting 2019 of the Botany Society was held on 30th May 2019. 
---
Celebrations of 60th anniversary of University of Kelaniya
Botany Society joined with lightning oil lamps at the university premises on 17th June, 2019.
---
World Rain Forest Day 2019

---
"NATURE IS NOT A PLACE TO VISIT, IT'S OUR HOME"
We celebrated World Rainforest Day (22nd June) at Sinharaja Forest Reserve which was organized by Society of Molecular Biology and Plant Biotechnology. Here are few of the memories captured during that amazing journey.
---
Akurata Aruthak 2019
Botany Society organized Science and Mathematics seminar for O/L students at Kadawatha Central College on 03rd October, 2019 with the intention of improving their knowledge and building confidence on writing answers during the examination. The seminar was successfully completed with the positive compliments of the students and the teachers.
Along with the seminar we conducted a tree planting project at the school premises to educate and encourage students about tree planting and conservation of the environment.

---
Botany Anatomy Packs
As a fund raising activity "Anatomy Packs" were prepared and sold among level I students who following Botany as a subject.
---
Digital Story Telling Competition-2019
The National Science Foundation (NSF) under the purview of the Ministry of Science, Technology & Research (MoSTR) annually organizes a Digital Story Telling Competition among undergraduates as an Inter University Science Competition of the University Science Societies registered under NSF. Our society won the 3rd place by preparing a video clip on "Sustainable Use of Earth Resources", which was the theme of the World Science Day this year. Awarding ceremony is scheduled to be held on 01st of November, 2019 at the Main Hall of BMICH.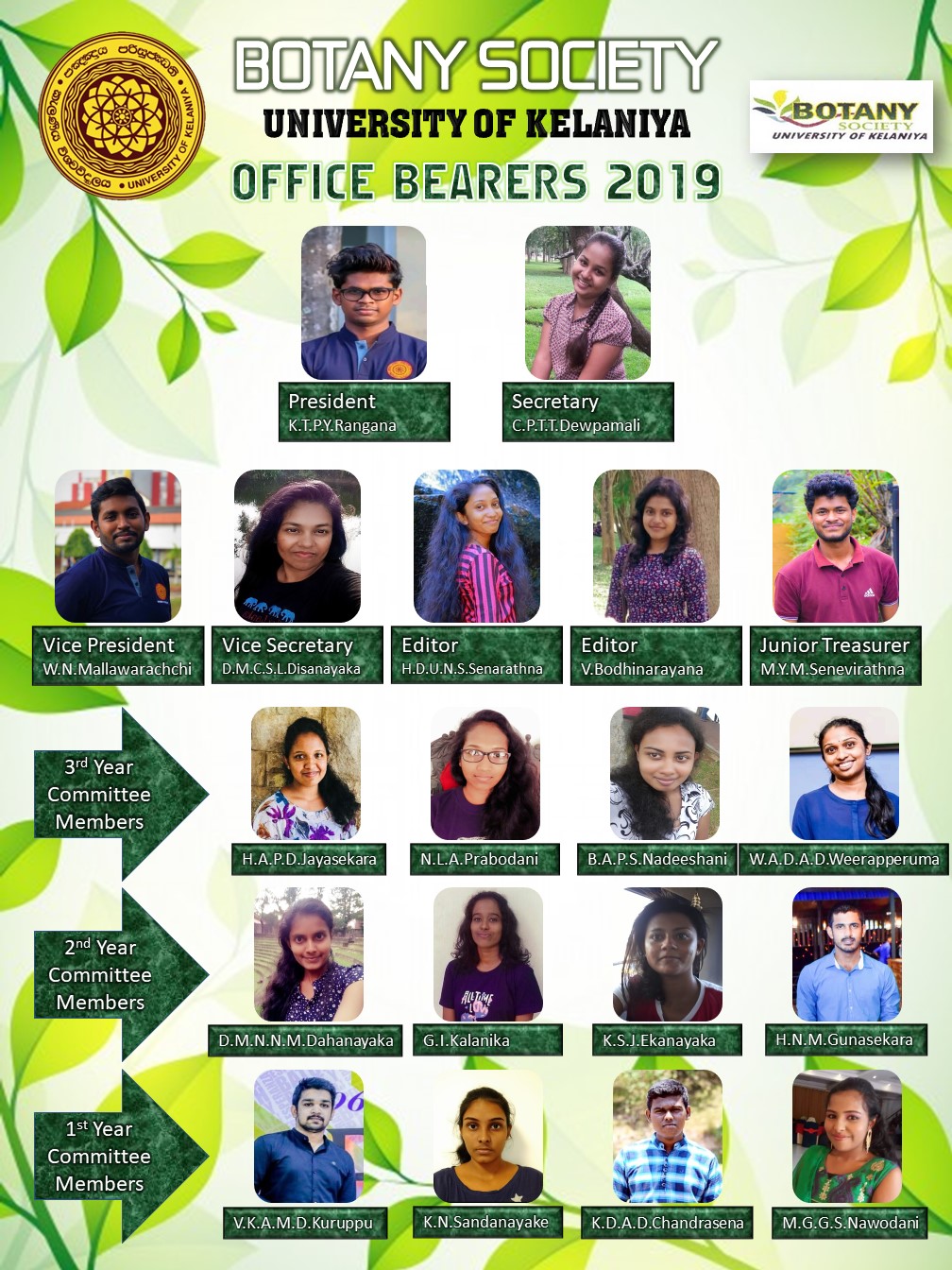 Botany Society Facebook Page
User Name    :- Botany Society University of Kelaniya
Our official Facebook page has more than 300 followers and latest news and activities conducted by the Botany Society is available on the page. We invite you to like us on Facebook to join hands with us.
The Botany society belongs to the Department of Plant & Molecular Biology, Faculty of Science, University of Kelaniya.
The Botany society organized a guest lecture on "How molecular breeding has helped improving viticulture in Portugal" by Professor Ana Lucia Pinto-Sintra from University of Tras-os-Montes e Alto Duoro, Portugal in September 2018.

Anatomy packs; the packs of tools necessary for anatomy related laboratory work, were prepared and sold to level one students who follow Botany as a subject, for fund raising.

The annual quiz was conducted for level one students to assess and improve their knowledge in Botany. Certificates and gift vouchers were awarded to the winners of the Botany quiz 2018 by the Dean of the Faculty of Science, Prof. (Mrs.) Bimali Jayawardana, in the presence of the academic staff of the Department of Plant & Molecular Biology. At the same ceremony, Mr. Viraj Miyuranga (BS/2014/176) was awarded the Rs. 5000 scholarship for the best performance in Botany at levels 1 and 2.

Informative session, "Meet a professor who works in USA: Planning your future for higher studies and science related careers" was conducted by Prof. Channa De Silva of Western Carolina University, USA, who is indeed a proud product of the Faculty of Science, University of Kelaniya.

A T-shirt project was conducted for fund raising for the Botany society.

The latest news on activities conducted by the Botany society is now avaible on the official facebook page: Botany Society University of Kelaniya.